Innovative
Web Development

Services

Our web development expertise empowers innovative digital solutions, engaging your desired audience while driving business success.


Web Development Services We Offer
We deliver excellence with our top-tier web development team, ensuring a blend of professionalism in every project. Timely delivery is our hallmark, with strict adherence to coding norms.
Elevate Your Website's Traffic And Revenue With Our Exceptional Web Design And Development Strategies.
Enjoy access to all the premium digital tools you'll need.

Idea to Value
Stay competitive by staying current with market trends.

Skill Enhancement
Maintain industry competency through trend awareness.

Seamless Experience
Keep pace with trends for superior customer experience.

Benchmark Standard
Stay updated, and set the web standards others follow.

Attract Investors
Remain competitive and investor-friendly with updated trends.

Trend Adherence
Stay relevant and competitive by following market trends.
Are You Seeking To Create An Exceptional Webflow Website?
Engage with the skilled team behind Templates for top-notch web development services tailored to your needs.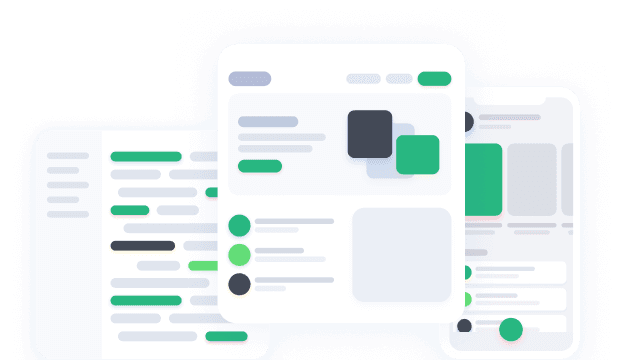 Web Development Process We Follow

Information Gathering
Understanding our customers' needs is crucial. We make sure to talk with clients to understand their ideas fully. Before moving forward, our team gathers essential information about your business, goals, market, competitors, and other relevant factors.

Strategic Planning
Post the initial engagement, we delineate your project, setting clear milestones. Our team then progresses to strategize, wherein our experts devise optimal solutions aligned with your project ambitions.

Design & Coding
After finishing the plan, we start making your project look and work well, following the guidelines to ensure it's easy to use and ranks well on Google.

Quality Assurance
Quality assurance is pivotal and occurs in this phase through thorough testing, underscoring the project's quality. Our dedicated QA team oversees this critical phase, ensuring no compromise on quality.

Successful Launch
The moment of fruition arrives with the project launch. Post-approval, your project is unveiled and promoted. Relax and witness the unfolding success with our team at your disposal for any follow-up inquiries concerning the website.

Support & Maintenance
Post-deployment, our unwavering support ensures smooth sailing. Our team remains at your beck and call to address any queries, affirming a hassle-free experience post-launch.
Technologies We Use For Web Development





Testimonials
We collaborated with Webevis Technologies after our previous developer failed to meet our requirements for an environmental fleet management platform. Fasih and his team meticulously analyzed our project, ensuring they possessed the necessary skills. We appreciate their transparent and proactive approach, diligently addressing our requirements and finding solutions. We are delighted with their commitment and service.
Unlock Online Success with Expert Web Development.
Why Choose Webevis Technologies For Web Development Services
Webevis Technologies stands as the paramount choice for comprehensive web development services. Our commitment to crafting cutting-edge web solutions sets us apart. With around a decade of experience, we bring unparalleled expertise. Here are some of the reasons why we are the preferred option:
Full-Scale Expertise
Benefit from our end-to-end web development services, covering everything from business analysis to continuous support and evolution.
Innovative Approach
Webevis Technologies encourages innovation by combining imagination with practicality. We infuse the latest technologies and development approaches into every project.
Security Assurance
Trust our certified security management system to safeguard your project environment, digital assets, and intellectual property.
Transparency and Collaboration
You will receive transparent collaboration tailored to your preferences, ensuring steady progress throughout development.
Proven Success
Webevis Technologies has achieved digital success for a number of satisfied clients. You can elevate your digital presence by choosing Webevis Technologies as your web application development company.
Full-Scale Web Development By Webevis Technologies
At Webevis Technologies , our commitment to delivering top-tier web development services is exemplified through our comprehensive and full-scale approach. Our holistic methodology ensures that every aspect of your web development project is meticulously planned, executed, and supported. We provide robust, user-centric, and future-proof web solutions.
Business Analysis
Our journey starts with an in-depth business analysis, diving into your requirements, objectives, and target audience needs. This phase lays the foundation for a solution aligned with your business goals.
UX and UI Design
Crafting captivating user experiences (UX) and intuitive interfaces (UI) are at the core of our process. The user interface is designed for maximum usability, ensuring a seamless and engaging experience for your audience.
Architecture
We devise a robust architecture blueprint outlining your web solution's structure and functionality. This phase involves selecting optimal technologies and planning the technical aspects and infrastructure to ensure seamless performance, feasibility, and future scalability.
Front-End Development
Our expert front-end developers bring the design to life, employing the latest technologies and coding practices to create a visually appealing and responsive user interface.
APIs
We seamlessly integrate Application Programming Interfaces (APIs) into your solution, enabling smooth connectivity with internal corporate systems and external third-party services.
Back-End Development
As the backbone of your web solution, our back-end development team builds the server-side logic, databases, and application functionality, ensuring the site operates smoothly. We leverage proven frameworks and coding languages to guarantee speed, efficiency, and reliability.
Testing And QA
Rigorous testing is conducted at every stage to ensure a flawless user experience. Our QA experts meticulously assess functionality, usability, performance, and security to deliver a high-quality product.
Integration
We ensure seamless integration of your web solution with other systems' providing streamlined operations and data flow.
Continuous Support and Evolution
Our commitment extends beyond the completion of the development phase. Post-launch, we offer continuous support, updates, and evolution, ensuring your web solution remains efficient, secure, and aligned with your evolving business needs.
What Web Solution Do You Need?
At Webevis Technologies, we understand that every business has unique needs, and our versatile web development services cater to a diverse range of web solutions. With our expertise, you can create a dynamic website, establish an online store, streamline business processes through web applications, or create a user-centric web portal.
E-commerce :
We specialize in creating e-commerce app developmentsolutions that maximize user experience, scalability, and conversion optimization to help you achieve your goals, whether you need to establish an online store, renovate your existing platform, or expand your digital footprint.
Web Apps :
We excel in innovative, efficient and custom web app development , offering solutions that streamline diverse business activities. Our focus on smart automation ensures seamless integration among corporate apps for cohesive operations.
Web Portals :
Our experience extends to creating dynamic web portals catering to different audiences: customers, business partners, or interest-based communities. These portals automatically aggregate real-time data, serving as a valuable source of information and assistance for users.
Websites :
We design websites with user-centricity for everything from corporate presentations to brand building. We provide easy-to-use content management systems and captivating designs that reflect your brand essence, ensuring a harmonious blend of aesthetics and functionality.
Benefits Of Web Development Service With Webevis
Your digital presence will reach new heights when you choose Webevis Technologies as your web application development company. Here is why partnering with us is a game-changer:
Tailored Solutions :
We understand that one size does not fit all. Our web development services are customized to your unique business needs, ensuring that the end product aligns perfectly with your objectives.
Unmatched Expertise :
With a team of seasoned professionals, we bring years of expertise and diverse skills to the table. From intricate coding to intuitive design, our experts ensure top-notch quality and innovation in every project.
User-Centric Approach :
User experience is at the forefront of our development philosophy. We craft websites and applications that meet functional requirements and deliver a seamless, intuitive, and enjoyable experience for your users.
Cutting-Edge Technologies :
We stay abreast of the latest advancements and integrate cutting-edge technology into your web solutions. This ensures your digital presence remains modern, scalable, and competitive in a rapidly evolving online landscape.
Scalability :
Our custom web development solutions are designed to grow with your business. Whether you are a startup or an enterprise, we build scalable architectures that accommodate expansion and evolving requirements.
Robust Security :
Security is non-negotiable in the digital realm. We integrate robust security measures into every development layer to safeguard your data, user information, and digital assets.
Timely Delivery :
We understand the importance of time in the digital market. Our agile development methodologies ensure timely delivery without compromising quality, allowing you to meet your strategic milestones efficiently.
Result-Oriented Approach :
Our focus is not just on delivering a project; we aim for tangible results. Whether it is increased conversions, enhanced user engagement, or improved functionality, we strive for outcomes that drive your business forward.
Ongoing Support :
Our commitment does not end with deployment. We provide continuous support and maintenance, ensuring that your web solutions operate seamlessly, with quick issue resolution and updates to adapt to changing needs.
Our Web Development Service Process
At Webevis Technologies, our custom web development process is meticulously designed to ensure a seamless and efficient journey toward creating unparalleled digital solutions for your business.
Discovery & Analysis :
We begin by deeply understanding your business needs and objectives. Through detailed discussions and analysis, we unearth crucial insights that lay the foundation for the project.
Planning :
Based on the insights gained, we formulate a detailed plan outlining the project scope, timelines, and resource requirements. This step ensures that everyone involved is aligned with the project's objectives.
Design :
Our expert designers craft visually appealing and user-friendly interfaces. The design phase focuses on creating a seamless user experience while staying true to your brand identity.
Development :
This is where the magic happens. Our skilled developers bring the design to life, implementing robust functionalities and ensuring the web solution aligns with the latest industry standards and practices.
Testing and Quality Assurance :
Rigorous testing is conducted to identify and rectify any glitches or inconsistencies. Our QA team ensures that the web solution meets the highest performance, security, and user experience standards.
Deployment :
Once thoroughly tested and refined, your web solution is deployed, making it accessible to your audience. Our deployment process is seamless, ensuring minimal downtime and a smooth transition.
Maintenance and Support :
We provide ongoing support and maintenance to keep your web solution operating at its best. Regular updates, bug fixes, and proactive monitoring are integral parts of our commitment to your digital success.
What services does Webevis provide in web development?
Webevis offers a gamut of web development services, including custom web design, web application development using frameworks like React, NodeJS, MongoDB, and Angular, UI/UX design, eCommerce development, WordPress development, DevOps, and AI development. Our expert team ensures that solutions are tailor-made to meet your business requirements.
Why should I choose Webevis for my web development needs?
Choosing Webevis ensures you receive top-notch, industry-standard web development services from a seasoned professional team. Our client-centric approach focuses on understanding your business needs and market dynamics and delivering solutions that contribute to your online success.
How does the web development process work?
Our process initiates with gathering comprehensive information about your business and objectives. Following this, strategic planning is conducted to outline your project and set milestones. The design and coding phase ensues, after which debugging is done to ensure quality. With continuous support and maintenance, your task is launched and promoted upon approval.
Is web development SEO-friendly and optimized for performance?
Absolutely! We prioritize creating web solutions that are SEO-friendly and optimized for superior performance, ensuring your online presence is not only visually appealing but also ranks well on search engines and provides an exceptional user experience.
What technologies and frameworks do you specialize in?
Webevis has expertise in various modern technologies and frameworks, including, but not limited to, Web Application React, NodeJS, MongoDB, Angular, WordPress, and DevOps. Our developers leverage these technologies to deliver efficient and cutting-edge web solutions.
How can I get a quote for my project from Webevis?
It's simple! You can contact us through our website's 'Get A Quote' option. Please provide us with your project details, and our team will get back to you with a customized quote per your web development requirements.